---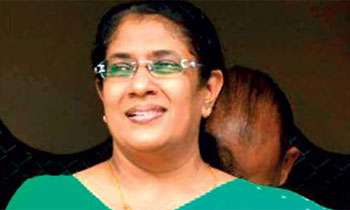 Some Officers in the Ministry of Prisons had received death threats after the Minister took steps to rid the prisons of corruption and drugs, Prison Reforms Minister Ms Thalatha Atukorale said,
Speaking to the media after a function held in Ratnapura, the Minister said she would take any decision that was needed to transform the prisons into correctional centres despite such threats.
She recalled that a rushed decision had to be taken recently in respect of drug-related offences as drug business controlled by some people from within prisons had been doing a great harm to society.
She said that for the first time in the history a Prisons Police Unit with necessary legal powers had been installed in order to intervene in the affairs of the prisons after the Prisons Intelligence Unit was disbanded.
"The Prison Intelligence Unit was founded in 2010 and there was nobody to take responsibility for the actions of that unit for the past eight years," she said.
"Some decisions, taken according to the wishes of the officials have been changed at the interference of politicians. That shouldn't be the case," she said.
"There should be strict discipline among the Prisons Officers as they are not dealing with people living in an ordinary environment as in the outside world," she said.
However, the Minister added that officers should be committed to protecting the prisoners as well as their rights.