---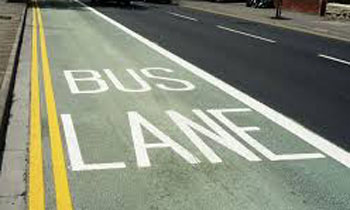 Priority bus lanes will be in force in Colombo and its suburbs from August 15, officials from the Ministry of Megapolis and Western Development and the Police Traffic Division confirmed Today.
Officials said the programme will initially be implemented for traffic coming into Colombo along the Galle Road with other major roads and outbound traffic roped into equation in the coming months. If followed successfully the programme is set to reduce traffic congestion by at least 50 percent and allow a faster traffic flow within the city.
Transport Development Deputy Project Director from the Ministry of Megapolis and Western Development, P. Dissanayke said all bus routes in the city will be brought under the programme as and when infrastructure is available to do so.
"We need at least three lanes in the road to establish such a programme. The issue now is that we don't have the necessary infrastructure. We will start with Galle Road and establish the programme in other areas when possible," he said.
Under the first phase of the programme, lanes will be allocated for buses along Galle Road, from Moratuwa to Pettah, and the route from Diyatha Uyana to Pettah.
A monitoring centre will be set up by the Ministry which will have access to CCTV cameras set up along the bus route. Buses will also be fixed with GPS trackers to ensure they do not travel outside the allocated lane.
"The monitoring centre will be manned throughout the day and police officers will be present at the scene to direct officers in the field in case bus drivers do not travel along the allocated lane," Dissanayake said.
As the pilot project was already held, once initiated on August 15, the programme will function as part of traffic regulations and bus drivers will be liable to fines if they were to drive out of line.
"We will deal with inbound traffic this year and out bound traffic next year. We have chosen Galle Road and road leading from Diyatha Uyana for the initial phase of the project. Under the second phase we will concentrate on Havelock Road," he said.
Officials conducted the pilot project for the programme from Rajagiriya Junction to Ayurveda Junction earlier this year.
Meanwhile, speaking to the Daily Mirror Director of Police Traffic Division in Colombo, SP Sumith Nissanka said the Police would provide their service to conduct this project as they did earlier when initiating it in Rajagiriya. (Nabeela Hussain and Kalathma Jayawardhane)