---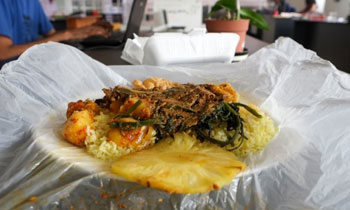 The prices of the packeted lunch sold within the Colombo City limits have shot up at least by 20 to 30 rupees from today following the increase of the lunch sheets and polythene bags from the beginning of the year.
When Daily Mirror carried out a study, it was revealed that the packeted meals and the night stall foods had been increased between Rs. 20 to 30.
When contacted, the sellers in the Colombo area said that the consumers had faced inconvenience due to the sudden price hike had impacted negatively their businesses.
However, they said they were left with no options instead of collecting the increased amount from consumers to recover the loss created by the price increase of polythene.
Meanwhile, the prices of all the meals other than the short eats had been increased in order to adjust the price increase of the polythene bags.
It was also learnt that some sellers declined to provide polythene bags as they were unable to bear the increased polythene prices.
Meanwhile, Speaking to Daily Mirror, Canteen Owners' Association Chairman Asela Sampath said around six million lunch sheets were being used per day within the Colombo to packet the meals..
He said due to the increase in the price of polythene, an additionall cost over Rs. 9.50 had to be spent to a packet of meals by the sellers.
Central Environment Authority Director of Waste Management Ajith Weerasundara commenting on the price increase said special raids had been initiated within the city limits from last Wednesday to nab the sellers using non-biodegradable polythene and lunch sheets.
However, he said during the raids the officers had observed that most of the sellers had complied with the use of the biodegradable polythene and lunch sheets as requested by the authority. (Thilanka Kanakarathna)