---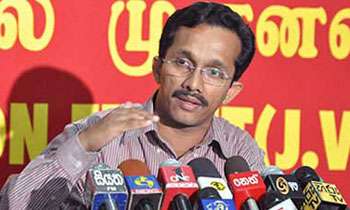 While claiming that it was President Maithripala Sirisena who put the country into anarchy and instability for his political gains, the Janatha Vimukthi Peramuna (JVP) said today that he should take the responsibility of stabilizing the country as well.
JVP Politburo Member Sunil Handunnetti told a news conference that the country had faced a serious economic crisis and added that the country would have to face a financial crisis next year as there was no legitimate government to present a budget for next financial year.
"The budget cannot be passed without a Government. There are no funds to spend after December 31. We have to pay a loan instalment of US$ 1 billion before January 15 next year. The President should explain to the country how the pension, salary of public servants are paid after December 31," he said.
He said the people had started to feel the repercussions of the purported government set up by the President Sirisena for his political gains.
"The rupee has deteriorated remarkably against the US dollar. The debt burden, prices of imported goods are increasing due to the depreciation of the rupee. The depreciation of the rupee is unbearable for the country's economy. The Rajapaksa faction took over the power not to develop the economy," he said.
Mr Hadunnetti said the share market had seriously collapsed where US$ 4.5 billion of foreign investments had been withdrawn from the share market in November. (Ajith Siriwardana)