---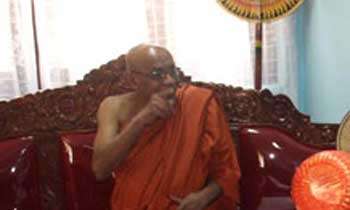 The Chief Incumbent of the Getambe Rajopawanaramaya Ven Keppetiyagoda Siri Wimala Thera said yesterday President Maithripala Sirisena should take the responsibility over the chaotic situation which has arisen in the country today.
He told this to Central Province Governor Maithri Gunaratne, who called on the Thera yesterday afternoon.
"A chaotic situation has arisen in the country. The President should take the responsibility for all these. He cannot get away from his responsibility," the Thera said.
Ven. Siri Wimala Thera said President Sirisena was a good person but his powers were used by some other people for wrong things.
"There is a situation where even the President cannot do something. It is not good to transfer his power to someone else. He is a good person. He needs to do something to the country. But his powers are used by some other people for wrong things. We can see an arbitrary rule in the country. There is no election or law and order in the country,' he said.
(J.A.L. Jayasinghe and Chandana Uduwawala)