---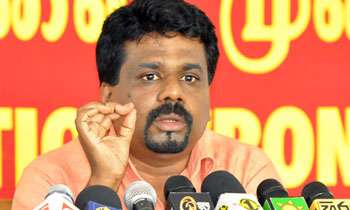 JVP leader Anura Kumara Dissanayake said today President Maithripala Sirisena, who so blatantly violated the Constitution by setting up an illegal government had no moral right to speak of decency and correctness in the fight against his unconstitutional acts.
He told parliament that the President's political coup violated his mandate, the Constitution and decency and that they were fighting against this coup.
The no-confidence motion presented by the JVP against the illegal government was passed under Standing Orders and Parliamentary tradition and the President should now take action based on it without looking for loopholes.
"Head of the Parliament is the Speaker not the President. President has no right to question the decisions taken by Parliament. The President also has to abide by the Constitution. He should now appoint a new government and a Prime Minister without plunging the country into further chaos, crisis and instability," he said.
Mr. Dissanayake said with enactment of the 19th Amendment, the executive could not overpower the legislature.
"The core of the 19th Amendment was to strengthen Parliament. The provision of the Constitution for the President to dissolve parliament was removed by the 19th Amendment," he said and added that if the President continued to violate the Constitution, they would consider taking action against him.
Mr. Dissanayake said the shortcomings of the UNP government had led to the conspiracy. (Ajith Siriwardana and Yohan Perera)