---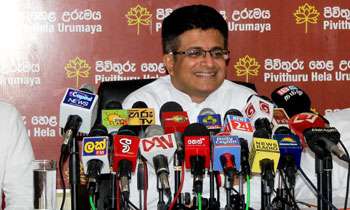 The President could appoint only 28 Cabinet Ministers, Pivithuru Hela Urumaya (PHU) Leader MP Udaya Gammanpila said today.
Addressing a news briefing, he said the maximum number of Ministers including the President and the Prime Minister was thirty in terms of Article 46(1) of the Constitution.
"The United National Party (UNP) is now in a dilemma as to whom they should give portfolios. Several seniors were promised with Cabinet Portfolios to avoid crossovers. Several State and Deputy Ministers expect Cabinet portfolios considering their contribution during the crisis," MP Gammanpila said.
Meanwhile, he said there was a rumor that the UNP was in an attempt to form a National Government with the solitary member of the SLMC, namely, Ali Zaheer Maulana.
"In terms of Article 46(5), the political party with the highest number of parliamentarians should join with other political parties to form a national government. It is not a party but parties. Hence, there must be at least three parties to form a national government. Just the UNP and the SLMC cannot do that," he said. (Sheain Fernandopulle)