---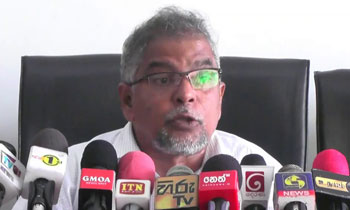 President Maithripala Sirisena and the Prime Minister Ranil Wickremesinghe should at least adhere to the request made by the Mahanayaka Theras and should resolve the SAITM issue immediately, Medical Faculty Students' Parents' Association (MFSPA) said today.
Speaking at a press briefing MFSPA Media Spokesman Dr. Nimal Karunasiri said that the authorities who came from the people's vote must serve the public and should not play with the people's mandate.
He said it was an unfortunate that the same who vowed to safeguard the public is now placing their lives in danger. It is our duty to remind them their responsibility.
"The unity government came in to power with the promise to safeguarding the democracy but is working in against it now. How a government can work against its own people. It is questionable why the President and the Prime Minister allow Rajitha,Kiriella and SB to decide the fate of the people disregarding the experts on the field," he said.
Dr. Karunasiri said that the students' are fighting for the betterment of the public welfare and therefore request the government to not to label them as henchman.
He also said that the university students extended their support to form the present government therefore it should stop treating those in an inhuman manner. (Thilanka Kankarathna)