---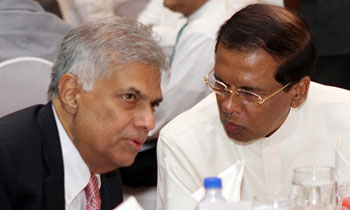 President Maithripala Sirisena and Prime Minister Ranil Wickremesinghe should admit their mistake and apologize to the people, Purawesi Balaya Co-Convener K.W. Janaranjana said yesterday.
He told a news conference that the President and the Prime Minister should make up their minds to work according to the mandate given to them in 2015 and underscored the fact that they would not leave any room for the Rajapaksa regime to return to power again.
Mr. Janaranjana said the mandate given to the President and the Prime Minister would not become null and void in the wake of the results of the Local Government elections.
"Today we are facing the repercussions of not carrying out the people's mandate. This is like the race between the hare and the tortoise. As the government did not act on its mandate using the authority vested in it, a tortoise that was not in contention won the race. The rulers should keep this in mind," he said.
Mr. Janaranjana said they met the President and the Prime Minister yesterday and pointed out that civil society and Purawesi groups still had the opportunity of discussing their issues with the two leaders.
"This kind of freedom is commendable. That was not possible during the Rajapaksa regime. We expect an action plan going beyond the discussions and acknowledge that the government has done a huge amount of work," he said. (Sujith Hewajulige)