---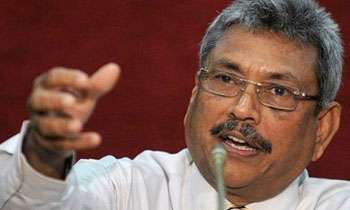 Hinting at contesting the upcoming Presidential Election, former Defence Secretary Gotabaya Rajapaksa said he was ready for the Presidential Election if people were ready too.
Addressing a conference of the Viyath Maga Organisation held in Colombo on Saturday, Mr Rajapaksa said the year 2019 would be an important year.
"We know a Presidential Election is to be held this year. I'm ready for it if you are ready too," he said amidst the applause of the Viyath Maga activists.
Mr Rajapaksa went on to say that irrespective of social status and other differences, people were of the view that the country should be taken towards a new direction.
He said some of the politicians trying to mix nationalism and racism without understanding the difference.
"When we develop the country, we should establish and retain the Sri Lankan identity. That's what people expect," he said.
"Basically, Sinhalese, Muslims, Tamils and Burghers; they are all Sri Lankans. We should establish that identity first. We should go forward as Sri Lankans," he said.
"There is a discussion on a new Constitution. Before a new Constitution is drafted, we should make people aware of the Sri Lankan identity. Then, they will understand the importance of staying together as Sri Lankans without divisions," Mr Rajapaksa said.
He said that Sri Lanka should focus more on improving social rights as a whole, such as eradicating poverty, than promoting individual rights.
"Today, more than 60% of Sri Lankans are still recognized as poor. Politicians speak about individual rights but as a society, we should speak about poverty and equality.
"The Western countries do promote Liberal Democracy which includes individual rights but we Sri Lankans are embedded with the culture, society and traditional values for more than 20 years until the time we are out of our parents' protection.
"After going to University or at later in life, we fight for the rights but we can't just cut off the cultural and social values we enjoyed for years.
"We are social animals. Human beings are social animals and not individuals. We should move forward as a society and not individually. Many countries in Asia developed their countries while promoting a sense of nationalism," he said.(Lahiru Pothmulla and Indika Sri Aravinda)