---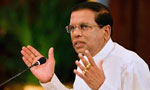 President Maithripala Sirisena today warned that strict action will be taken against relevant government officials in the areas if any unauthorized buildings or environmental pollution take place damaging canals and rivers in any area, "The government is committed to protect public servants who fulfil their responsibilities properly.
Similarly, the government will not hesitate to take action against officials who don't execute their duties", the Presidential Secretariat said quoting the President.
President Sirisena was speaking at the ceremony to declare the National Environment Week, implemented parallel to World Environment Day which falls on June 5. The ceremony was held today at the Sevamuktha Kandavura Maha Vidyalaya, Polonnaruwa.
The period from May 30 to June 5 will be the National Environment Week. A large number of environment programmes has been organized island wide during this week.
"We should curse not the rain but those who destroy the environment for the terrible calamities we faced due to floods and earth slips, caused by adverse weather conditions", the President said.
He recalled that the people who lived in unauthorized houses in the Kelani River Reservation and in the buildings on water ways, had to suffer from the flood for number of days. "The politicians and the government officials are the people who should be responsible for that", the President further stated.
The President said that our country had a rich history in protecting natural resources and the quality of biodiversity, but during the past few decades as a result of arbitrary actions by some politicians paved the way for environmental destruction.