---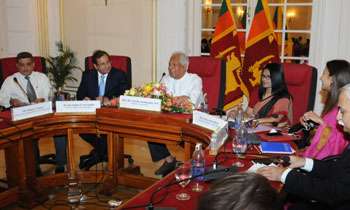 Foreign Minister Sarath Amunugama today briefed foreign diplomats based in Colombo at the Foreign Affairs Ministry regarding the chain of events that compelled President Maithripala Sirisena to dissolve Parliament, the Foreign Ministry said in a statement.
It said the minister had emphasized on the constitutionality of the steps taken by the President and added that having being elected through a nation-wide vote, the President derives his authority directly from the people of Sri Lanka.
He said in the event of a conflict between the organs of government, seeking a mandate from people who are sovereign ensures that democracy prevails.
"The minister also made special note of the peaceful atmosphere that continues to prevail in Sri Lanka, in the midst of internal political changes. This is to the credit of the people of Sri Lanka and re-affirmed the democratic traditions of the country. Through the measures adopted, the minister said the Executive has discharged his responsibility in ensuring the security and safety of all Sri Lankans, which may have been compromised by the growing tension and the departure from parliamentary traditions," the statement said.
Several country representatives present at the briefing have expressed their confidence in the strength of Sri Lanka's long standing democratic traditions in resolving this internal matter.