---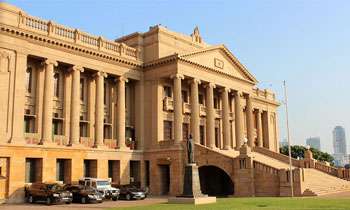 The All Party Conference, called by President Maithripala Sirisena to discuss the current political impasse, ended with no conclusion in sight, it is learnt.
The President reportedly asked the representatives of the United National Party (UNP) to get the no-confidence motion passed through the proper procedure and then he would recognize it. The President also asked both the parties to respect the Standing Orders without quarrelling.
However, the UNP leaders affirmed that the motion had already been passed and therefore there was no need for them to move it again. At the meeting, the two sides argued back and forth on the legality of the no-confidence motion which, Speaker Karu Jayasuriya declared, was passed by voice vote in the House.
The UNP leaders asked the government to bring a counter motion challenging the stand of the Speaker if it were aggrieved by it.
UNP MP Lakshman Kiriella, who attended the meeting, said that the Speaker had announced his ruling, and it could not be challenged even in a court of law.
"If you are not happy with his ruling, you can counter it in Parliament with another motion. We are ready for it," he said.
UNP MP Ajith P. Perera said his side commanded the support of more than 113 MPs, and they could be brought physically to the Presidential Secretariat as proof.
Speaker Jayasuriya boycotted the meeting. UNP Leader Ranil Wickremesinghe, Prime Minister Mahinda Rajapaksa, party leaders Mano Ganeshan, Palani Digambaram, Wimal Weerawansa, Rauff Hakeem, Patali Champika Ranawaka, Douglas Devananda , TNA Leader R. Sampanthan and MP M. A. Sumanthiran attended the event. (Kelum Bandara)