---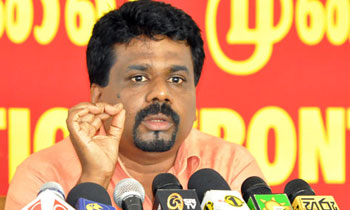 President Maithripala Sirisena's decision to appoint a Special Presidential Commission (SPC) of Inquiry to probe the Central Bank bond scam is only similar to closing the stable doors after the horse has bolted, JVP Leader Anura Kumara Dissanayake said today.
He told a news conference that there was a sinister move to block the scheduled to be held in Parliament tomorrow and that the case filled by the Ven. Thiyawala Palitha Thera against the parliamentary Committee on Public Enterprises (COPE) report on the bond scam was a part of this plan.
"The plan is to raise objections on holding the debate on the basis that the matter has been referred to Court and as such subjected to subjudice. We will fight against any moves to stall the debate," Mr. Dissanayake said.
Referring to the case filed by Ven. Palitha Thera, he said monks appear to be engaged in everything else other thanthe propagation of the Buddha Dhamma.
Mr. Dissanayake took a swipe at the Ven.Bengamuve Nalaka Thera whom he accused of defending MP Wimal Weerawansa who was remanded on charges of misusing State vehicles and the monk who heads the Rawana Balaya also accused of being given several vehicles by Mr. Weerawansa. (Yohan Perera)