---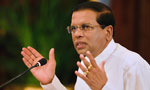 President Maithripala Sirisena today directed the authorities to publish a gazette notification declaring the Wilpattu sanctuary and all forest reserves abutting it as a Wild Life Zones.
The President at a special meeting held this morning at the Presidential Secretariat instructed all heads of departments under the Ministry of Environment, that action be taken forthwith to use modern technology to obtain a bird's eye view of all forests including Wilpattu.
He pointed out that those involved in deforestation in whatever manner should be severely dealt with regardless of their status and said the fines and jail term presently in force should be imposed to the maximum. He said he would request the Judicial Services Commission further, in this regard.
The President also instructed the officers concerned to investigate the allegations of destruction of forests in the Mannar and Puttalam districts and deploy a special team to inquire into it and submit a report. This investigation team would include personnel from the Environment Ministry, Forest Conservation Department, Wild Life Department, representatives from environmental organizations and journalists. He also instructed the officers to implement the law to the very letter, if forests are destroyed illegally in the Wilpattu sanctuary area, and when re-settlements are being made, to select lands situated away from the forest areas and also to implement a plan of action in identifying such lands.
The President's Secretary P.B. Abeykoon, Environment Ministry Secretary Udaya R. Senevirathne and Sustained Development and Wild Life Ministry Secretary R.M.D.B. Meegasmulla were among those who attended this discussion.