---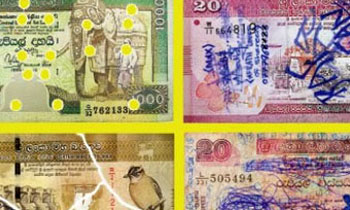 President Maithripala Sirisena has instructed the Central Bank to extend the deadline to return mutilated currency notes until March 31,2018, the President's Media Division said yesterday.
Earlier, the Central Bank had asked the public to exchange deliberately mutilated or defaced notes before December 31 and warned that it would not accept such notes from next year.
The PMD said the President had instructed the Central Bank to extend the deadline till March 31.
The CB said that willfully mutilation, alteration or defacement of Sri Lanka currency notes is an offence under the Monetary Law Act No. 58 of 1949, and is punishable by imprisonment or fine or both.
Under the Regulation E of the Monetary Law Act, no claim in respect of the willfully mutilated or altered notes shall be entertained and such notes shall be retained by CBSL. The holder of these currency notes will have to suffer the loss of face value of such notes.
However, CBSL informed the people that that currency notes that are not willfully mutilated, altered or defaced but damaged due to normal wear and tear during circulation can continue to be exchanged at CBSL and Licensed Commercial Banks as is the current practice.