---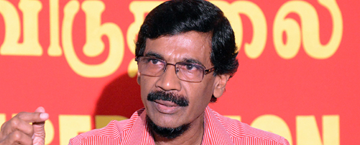 President Maithripala Sirisena is hoping to become the Prime Minister under the new Constitution, JVP General Secretary Tilvin Silva claimed on Saturday.
Speaking at a function in Matale, Silva said the executive presidency will be completely removed from the new Constitution.
"The President hopes to be a candidate for the post of Prime Minister for the next elections. He is already strengthening the SLFP for this," he said.
However, the division of the SLFP was now a problem to the President. "Provincial Councils are the grass-roots of politics in this country. Dissolving them has caused a number of issues where services are concerned. The President is under the impression that delaying the Provincial Council elections can resolve the issues within the SLFP," he said.
Commenting on parliamentarians being investigated, Silva said Minister of Social Empowerment and Welfare, S. B Dissanayake, has similar charges levelled against him.
"They have left him alone as he is a minister in this government. They have not taken any measures to investigate the ministers and parliamentarians connected to the government," he said.
The General Secretary also went on to say that the ETCA with India would be detrimental to the Sri Lankan economy. "Under this, local engineers and doctors will lose their jobs and the estate sector workers will have to work for Rs. 250 a day as the estates will be able to bring in cheaper labour from India," he said.
Both the previous and the present government could not resolve the economic issues in the country, Silva said. (M. W. Somarathne-Matale)