---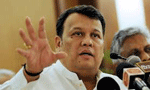 Government Spokesman and Minister Mahinda Samarasinghe yesterday debunked the claims made by MP Dinesh Gunawardana that there was a possibility of the military launching a coup.
He told journalists that President Maithripala Sirisena, who as the Commander-in-Chief was fully confident of the three armed forces.
The minister said the MP had spoken of a imaginary conspiracy out of malice and ill feeling with the government. He said no reports of any conspiracy had been received by the intelligence units of the three armed forces and the police.
"Politically and socially bankrupt politicians make this kind of irresponsible and antisocial statements hoping they can destabilize the country and incite communal clashes. They imagine they could grab power by damaging the Government's reconciliation and development process through such malicious and baseless propaganda. They should be aware that the unity government is on a sound footing with the blessings of the local and international community. Therefore, there is no room for a military conspiracy against the government. It is purely a figment of their imagination as they are uncertain of their political future," the minister said.
"These bankrupt politicians claim that disabled soldiers are disappointed about the clashes that took place during a protest recently. It is public knowledge that the clashes were staged by a few Bhikkus and joint opposition members even after knowing very well that President Sirisena had by then granted their demand for full pension benefits after retirement," he said.
While condemning any suggestion of a military conspiracy, the people in Sri Lanka and abroad would never condone such betrayal under any circumstances.
"In the local front, the government has taken action against those engaged in money laundering, embezzlement and other financial misappropriation under the Rajapaksa regime. The price of essential commodities including fuel and gas had been reduced. Salaries of armed forces and police, pensions of retired public servants, armed forces personnel and disabled soldiers have been increased. Therefore, it is the wishful thinking of these daydreaming politicians to suggest this conspiracy theory," the minister said. (Sandun A Jayasekera)
Video by Buddhi