---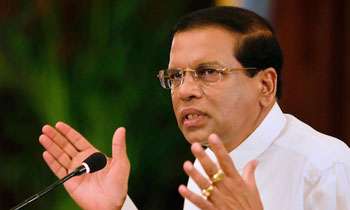 President Maithripala Sirisena yesterday admitted that there was truth in the allegations that the government had let underworld operations to rise, and said that he had given explicit instructions to Police Chief to take immediate action to give priority to control the underworld activities.
He said the Law and Order Ministry and the Police Department must take the full responsibility for this lapse and added that he should be informed if there was political pressure against taking action to control the underworld crimes.
"I have told IGP Pujith Jayasundara recently in firm words and instructed him to take swift action to curb these underworld activities. Those law enforcement authorities must act promptly to put an end to crimes and the underworld thuggery without any concern on the time taken to do that. If the government realizes that those establishments are weak and incompetent to take action against the underworld operatives, I have no option but to appoint someone else to do the job properly," he stressed.
President Sirisena added that it was incomprehensible and surprising as to how the underworld thugs flee the country after committing serious crimes despite the fact that all boarder points, the police, the CID and BIA had been fed with comprehensive information on underworld criminals and of their families.
"I admit that there has been a steep rise of crimes committed involving the underworld criminals. Particulars of each and every criminal, his/her families, Passports numbers and other travel documents details and all other information have been fed in to computer network of law enforcement authorities and the airport.
What I cannot understand is that how these criminals manage to flee the country after committing a crime. Don't these establishments have a list of criminals in their computer system? After they had left the country, the media raise cries that criminals or the underworld operatives had fled," President Sirisena lamented. (Sandun A. Jayasekara)