---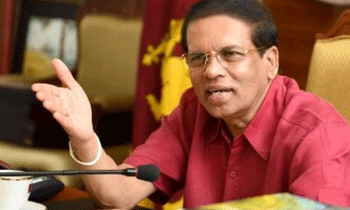 President Maitripala Sirisena while expressing "confidence" that the consensual government would remain in office till 2020, said today whoever who wants could leave but he would carry on with the government that is there.
"It is not me but the SLFP parliamentary group that is in the consensual government. Although some say their party would form a government on their own soon; under the current composition of Parliament no single party could form a government on its own. Even if there is another coalition, I will fulfil my responsibilities towards the people as President of the country until the end of my term," he said.
He told Media Heads and Newspaper Editors at the President's House that the SLFP Central Committee had resolved to take a decision on the future of the consensual government agreement between the SLFP and the UNP in December and therefore it was improper to talk about it beforehand.
Answering a question, the President said the SLFP had not proposed him as the next presidential candidate and he too had not said anything of the sort. He said there were some such views expressed by various people but no final party decision yet.