---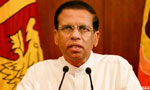 President Maithripala Sirisena expressed his profound grief for the loss of life, the people who went missing and the damage caused to property as a result of the adverse weather conditions prevailing throughout the island.
He extended the concern of the government to all affected citizens, including those who are now confined to temporary shelters.
"I extend my gratitude to the three armed forces and the police, district and divisional secretaries and all government officials for braving this situation and assisting the people in providing them safety and other welfare measures.
To all those who came forward to assist the people affected by this tragedy with so much dedication I would like to offer my heartfelt gratitude. You have earned the praise of all citizens of the country and the manner in which you carried out these tasks deserve special mention," President said.
He stated that a three-pronged action plan had been put in place by the government in this regard. The first is to provide maximum welfare facilities to the people in distress. Second is to adopt strategies to face a situation in the event of the rains intensifying and the third is when the bad weather ends to construct houses for the displaced, provide their health and sanitation requirements thereafter.
He also stressed that the government is doing its utmost to provide food, sanitation facilities as well as temporary accommodation to all those who are affected by this calamity, and called upon the general public, benefactors of the business community, non-governmental organizations to come forward to provide maximum assistance to those affected. The government is attempting to provide all that is needed at this hour without any shortcomings, but it is apparent that in situations of this nature it cannot avoid criticism being levelled against it by persons with vested interests. However we are doing our best to avoid such criticism.
"I have instructed all responsible authorities to establish units for the disbursement of assistance and grants in all districts that are faced with this situation. These units should work in a systematic manner to have these grants and assistance sent directly to those who need it, thereby negating any room for corruption or any irregularities to take place. A structure is already in place in this regard,"the President said.
He also requested the general public to inform the special unit set up at the Presidential Secretariat on Telephone Number 1919 if any irregularities or any acts of commission are taking place. He also drew the attention of all local government members to give their fullest support to this programme of action undertaken by the government. Already we have requested friendly nations through their diplomats to render assistance by way of housing, health and sanitation facilities to affected families. Some nations have already come forward to offer assistance in this regard. President Sirisena expressed his sincere gratitude to these nations.