---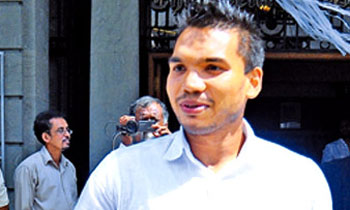 Joint Opposition MP Namal Rajapaksa yesterday said President Maithripala Sirisena had cleared the good name of Prime Minister Ranil Wickremesinghe through his Wednesday's statement on the Central Bank bond scam.
Addressing the media following an event held in Colombo, MP Rajapaksa said that accordingly, now the wrongdoer was former Central Bank Governor Arjun Mahendran.
"In President Sirisena's statement, he has cleared the good name of Prime Minister Wickremesinghe. The wrongdoer is Mahendran, not the person who had appointed him or the person who was going to appoint him," he added.
He said the President could not escape from his liability with regard to this issue and added that he should be answerable to it.
While referring to the Bond Commission's recommendation on Central Bank to conduct a forensic audit with regard to the alleged fraud and corrupt practices from 2008, he said it was mandatory to launch such an investigation since it would reveal the difference and confirm the frauds occurred in 2015.
"Investigating this issue from 2008 was the only way to prove that no fraud had taken place within that period," he added.
He requested President Sirisena to investigate the alleged fraud and irregularities from 2008, and added, that however, the current findings on bond issue should not be concealed. (Kalathma Jayawardhane)
Video by Sanjeewa