---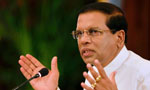 President Maithripala Sirisena has approved the provision of 4.68 million rupees as compensation for 33 victims of the Rathupaswala incident.
President Sirisena will present compensation money on April 8 to 24 persons in the Gampaha Divisional Secretariat Division, who had been fully disabled, partially disabled or who had been admitted for hospital treatment and 9 persons in the Mahara Divisional Secretariat Division.
A committee headed by District Secretary of Gampaha had been appointed to determine the compensation process.
Violence erupted during a protest by residents of Rathupaswala on August 01, 2013 as security forces and protesters clashed in Weliweriya, resulting in the death of three persons and over 30 injured. (Sandun A Jayasekera)