---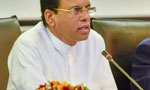 President Maithripala Sirisena appointed a Special Committee to implement and oversee the approaches and programmes on poverty alleviation as the Government has declared 2017 as the year of alleviating poverty from the country.
Minister Sarath Amunugama will chair the committee and the other members of the Committee are the Ministers Ravi Karunanayake, Kabir Hashim, Sajith Premadasa, Governor Southern Province , Hemakumara Nanayakkara, Reginold Coorey, Ven.Athuraliya Ratna thero, Secretary to the President P.B. Abeykoon, Secretary to the Prime Minister Saman Ekanayake.
The President called a meeting yesterday to discuss regarding the strategic approach which aimed at eliminating poverty from the country, to make the year 2017 as the year of alleviating poverty.
Prime Minister Ranil Wickremesinghe, Ministers and MPs, Governors, Chief Ministers, Ministry Secretaries, Secretary to the President P.B. Abeykoon and state officials participated in this meeting and during that meeting President Sirisena appointed this Committee.
The aim of this meeting is to prepare a main plan, obtaining proposals and ideas from all the sectors. Prime Minister, Governors, Chief Ministers, officials of the Ministry of Social Empowerment and the Governor of the Central Bank presented detailed proposals and plans on this issue.
Considering all the presented details the President instructed the relevant authorities to launch this programme more practically from ground-level of the country. He also instructed all the Local Governments and line ministries to submit a comprehensive report subsequent to the discussions among them in the future.
"Every ministry should implement a suitable project relevant to the poverty alleviation programme in the first week of January , and further instructed that the appointed Committee should continuously scrutinize those projects and must make the necessary coordination with those institutions" the President said.
President Sirisena also emphasized that this programme should implement based on a one policy and a single objective and further emphasized the necessity of successful implementation of this programme to reduce the poverty rate of the country and to improve people's living standards.
Another discussion will be held under the patronage of the President regarding the preliminary works of this programme next month.