---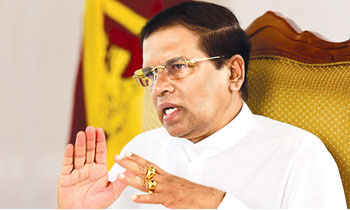 The Sri Lanka Freedom Party (SLFP) Central Committee held a special meeting yesterday evening that went on till late last night.
Speaking at the meeting President Maithripala Sirisena asked those present to brace themselves for the Local Government and Provincial Council elections, it is learnt.
The President reportedly told the Central Committee that though the government had come up with the 20th Amendment to the Constitution to postpone the provincial council elections due this year, it all comes down to the determination by the Supreme Court.
Therefore, he said the party should be ready and waiting for elections to both the local authorities and the provincial councils to be called at any time.
The President took the opportunity to express his gratitude to all those who helped conduct the annual convention of the party held last Sunday.
Speaking on the occasion, Deputy Minister Arundika Fernando, who is tipped to cross over to the opposition, criticized the UNP saying there were major frauds involving expressways that had come to light. This he said was after the latest revelations with regard to the bond scam that had emerged recently. He therefore urged the party to quit the government. (Kelum Bandara)