---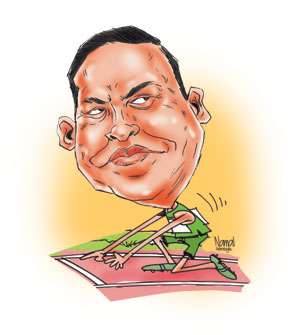 It will be easier for the UNP if former defense secretary Gotabaya Rajapaksa contested the 2020 presidential election, UNP Propaganda Unit Chief and Minister, Harin Fernando said today.
He told a news conference the UNP would welcome Mr. Rajapaksa's candidacy because there were many things to talk about. "We have many things to tell the people about former the defense secretary and we will do so at the right time," the minister said. "Mr. Rajapaksa always does things through militarization. Anyone who likes it could embrace militarization."
He said many have failed to understand the mature democracy that is prevailing in the country. "Mature Democracy is the reason why people cannot understand the truth. Many think that this government is timid and has no backbone.
The President and the Prime Minister are attacked on Facebook. Some think that both of them have become jokers, there is mudslinging everywhere. Media can fabricate news. These are all features of a mature democracy," he said and added that even the head of state could be criticized amid an environment of a mature democracy.
That mature democracy was born only after 2015," he said. "There are two kinds of laws -- the laws which people take on to their hands and laws enforced according to the book. We have not taken the laws into our hands. We have enforced the laws as it is in the book and had allowed the judiciary to deal with the wrong doers. There is a delay on the part of the judiciary as cases are postponed. One could get things done when he takes the law on to his hands while when you enforce the laws according to the book it takes time. When law enforcement gets delayed one concludes that this government is a failure. New laws have been approved in Parliament to set up special courts to hear cases daily. When this new courts are established everyone will be able to see how the wrong doers are penalized." (Yohan Perera)
Video by Buddhi