---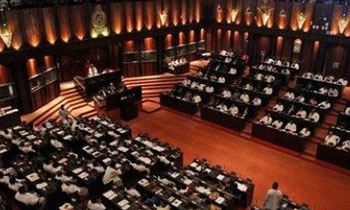 The presence of Rohingya Muslims who had fled Myanmar was questioned in Parliament today.
Opposition MP Jayantha Samaraweera who raised a question on the issue said a camp comprising of Rohingya Muslims who had come down from Myanmar has been set up near Mirihana. "We would like to know what actions the government would take in regard to Extradition Laws," the MP questioned. Mr Samarawerra said this has been reported in social media. "Social media has reported on this and it is indeed a reality," he said.
Minister of Justice Thalatha Athukorala who responded said she was not in a position to give any details on it now.
MP Wimal Weerawansa who responded to the Minister said the matter had become a serious issue as some of these people who were in the camp had got out of it and living in private residences. "Some of the children of these people have been admitted to schools," he said.
Minister Athokorala said MP Weerawansa could raise a question on the matter from the Ministry of Defence.
SLMC MP M. H. M. Salman who spoke later in the House said Sri Lanka should look at the Rohingya people in a compassionate manner. "It is true that Sri Lanka has not signed the UN Charter on refugees but it should look at an issue in a compassionate manner especially as Myanmar where the Rohingya people come from has been a friendly nation. "Both countries have worked together in promoting Buddhism and it is essential that this issue is looked at in a more positive manner," he said. (Yohan Perera and Ajith Siriwardana)