---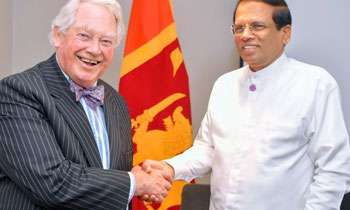 Lord Baron Naseby, member of the British House of Lords, met with President Maithripala Sirisena in London yesterday, and noted it's a grief that precise and sufficient details of the war had not been provided to Europe and Geneva.
At the meeting, it had been noted that his fullest cooperation would be provided to inform the Europe and Geneva about the true circumstances.
While appreciating the development programme conducted by Sri Lanka, Lord Baron Naseby ensured the President to provide fullest assistance as a true ally of Sri Lanka.
The President was thankful on behalf of the personal interference provided by Lord Naseby understanding the true circumstances of Sri Lanka towards the country's development and reconciliation process.