---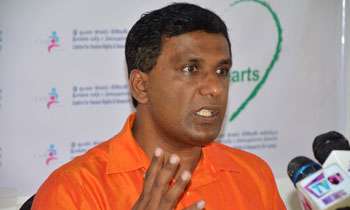 Some powerful 16 MPs from both the Government and the Opposition accepted money from the Perceptual Treasuries Chief Arjun Aloysius, Centre for Human Rights and Research (CHR) Executive Director Keerthi Tennakoon alleged today.
Addressing a news briefing, he said the 16 MPs had obtained money on separate occasions via 'crossed' Cheques and cash cheques.
"Allegations have been levelled at different politicians over taking money from the PTL. It should be noted that all those who have taken money from the PTL are not only politicians. Several civil activists, religious leaders, and professionals should also be included to the list," Tennakoon said.
He said that the Criminal Investigation Division (CID) report on the Central Bank bond scam, which had not been made to public domain yet, would expose all 118 individuals, who had obtained money from the PTL.
He said although now it is six months since the final report on the CB bond fraud had been issued, the master mind of the bond scam had not been taken into custody.
"When the final report was presented to Parliament, we exposed that 5,000 annexure pages were missing. Then, the President said those pages couldn't be exposed as it would obstruct legal process. Those pages should be made to public domain in order to get the real picture of the CB bond scam," Tennakoon said. (Sheain Fernandopulle)