---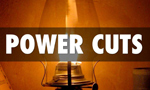 The scheduled three-and-a-half hour power cuts would be reduced to one-and-a-half hour, after the Mahaweli Authority had agreed to release more water to the hydro power plants, Minister of Power and Energy Ranjith Siyambalapitiya announced a short while ago.
Accordingly, he said the power would be disrupted for an hour during the daytime and half an hour in the evenings.
Earlier, the Ceylon Electricity Board (CEB) announced that three-and -a -half hour power cuts would be imposed island wide, except for Colombo, until next Friday (21) due to the breakdown at Noraichcholai power plant.