---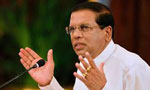 There had been a power outage lasting for more than half an hour this afternoon, during the North Western Province Medical Awards Ceremony (organised by the Ministry of Health and Indigenous Medicine of the North Western Province) while President Maithripala Sirisena, who was the chief guest, was addressing the gathering.
The event, held at the auditorium of the provincial council, had continued in darkness as the standby generator at the auditorium, too, had failed to function.
The president, after he had completed his speech in total darkness, was presented with a commemorative trophy with the help of a torch. Power had been restored sometime later. Sources said the usual power cut applicable to this area had been imposed by the Electricity Board which had not been informed of the event at the auditorium. These power outages had interrupted council sessions earlier too.
The journalists of the area had boycotted the event as a mark of protest, as the Chairman of the North Western Provincial council Tikiri Banda Adhikari had allegedly abused them. (Pushpakumara Jayaratne)