---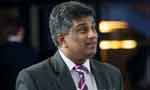 There could be a power crisis in 2018, Power Deputy Minister Ajith P. Perera said today.
"The Sampur coal power plant is to be completed by 2017 according to the long term construction plan. But it couldn't be completed due to lots of reasons," he said.
"The coal power plants cannot fulfil the electricity requirement in 2018 because of the increasing demand," he said.
He said that as a result the Ministry was considering renewable energy sources.
"Three solar power plants of 100 MW each would be established in the Southern and Eastern Provinces and be connected to the national grid. The solar power plants could be completed within two years after calling tenders," he noted.
He said in addition that another 300MW thermal power plant would be constructed at Kerawalapitiya as a first step and studies are underway to locate a suitable place in the Southern Province to build another power plant.
"Those plants will contribute 1000 GW to the national grid within two years," he said.
Meanwhile, studies were now being conducted to find the best location for the construction of the Sampur coal power plant, Power Minister Ranjith Siyambalapitiya said today.
While addressing the media briefing, Minister Siyambalapitiya said the power generation plants I, II and III at Sampur would be operational in near future. But he did not give specific dates of completion.
He said that the approved Environmental Impact Assessment (EIA) report, which was signed in 2008 had been received.
He said that the Ministry was considering a middle path for the power plant so that the damage to the environment would be minimal.
"A committee including environmentalists and CEB officials had been appointed to searching for the best location for the power plant in Trincomalee," the Minister said. (Chaturanga Pradeep)
Video by Chaturanga Pradeep