---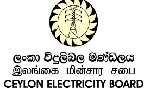 The Ceylon Electricity Board (CEB) said yesterday if the prevailing drought continued for the next few months, the country might be in the throes of a power crisis and that currently priority had been given to thermal and coal power generation.
CEB General Manager M.C. Wickramasinghe said hydro power generation hydro has been cut down because of the reduction in water levels in most reservoirs and added they were in contact with the Meteorology Department for any possible change in weather conditions.
"We expect inter-monsoonal rains by May. We cannot predict rains just like before as the weather patterns seem to have changed now. If it did not happen we will have to face extreme conditions. We are planning statistically with the hope of facing any situation that may arise," he said.
Mr. Wickramasinghe said priority was usually given to water for irrigation and drinking purposes than to the generating of hydro-power.
As of March 16, out of the total energy requirement of 34.06 GWh, only 11.04 GWh had been generated from hydro power plants while Thermal Oil had contributed to the generation of 22.96 GWh of the total energy requirement.
As of yesterday the water levels in most of the reservoirs had reduced by a considerable amount and the water level in Kotmale was 25.3%, Victoria 53.7%, Rantembe 5.3%, Castlereagh 26.1%, Mausakelle 39.4%, Samanalawewa 30.9% and Randenigala 89.4%. (Ajith Siriwardana)