---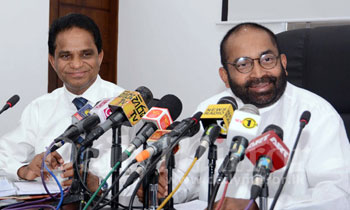 The Ministry of Power and Renewable Energy has submitted a Cabinet paper requesting for Rs.2.5 billion to purchase supplementary electricity from private power generating sources. Sources said the document was submitted by Minister Ranjith Siyamabalapitiya at the Cabinet meeting presided over by the President yesterday.
The request for the immediate purchase 100 megawatts of electricity was made because of the drought which prevailed in the country and because of the delay in constructing new power plants.
Sources said the electricity is to be purchased from the private sector at a cost of Rs.28.20 a unit.
Meanwhile, Ministry Secretary Dr. Suren Batagoda confirmed that the ministry planned to purchase as a buffer stock.
"Yes we want to purchase 100 megawatts at Rs.28.20 per unit. This is to fulfil the requirements for buffer stock of electricity and ensure there was no sudden shortage, like this country experienced with fertiliser and oil," he said.
Dr. Batagoda said power was currently purchased at prices between Rs.30 and 35 per unit and that intended purchase was economical to the ministry. (Ajantha Kumara Agalakada)