---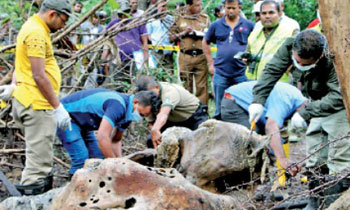 The Wildlife Department yesterday said the postmortem carried on the elephant's body found near the Sorow Wewa at Moragollagama was confirmed as that of the Tusker 'Dala Poottuwa' while Law and Order Minister Sagala Ratnayaka instructed acting IGP Senior DIG C.D. Wickremeratne to hand over the relevant police investigations to the Criminal Investigation Department (CID).
Wildlife Deputy Director Manjula Amararathna said the postmortem had also revealed that the death had occurred due to gunshot injuries.
The postmortem was conducted by Veterinarians Tharaka Prasad and Chandana Jayasinghe.
North-Western Province Assistant Wildlife Director A.H.Sumanasena said the tusker was treated for an injury in his left hind leg and the injury was seen on the carcass of the elephant.
The Minister said the law would be implemented against anyone behind rackets involving elephants or tuskers irrespective of their positions.
"Several incidents involving the killing of elephants were reported across the country in the recent past. In one incident, two persons were arrested in Polpithigama along with a pair of elephant tusks and ivory organic gemstones (Gaja Muthu) of the Galgamuwa tusker 'Dala Poottuwa'. The remains of the Galgamuwa tusker was found at the Kahalla-Pallekele Sanctuary and another tusker was also found shot dead in the Thabbowa area. Police also recovered an elephant calf which had been roped to a tree in Kataragama," he said.
The Minister said the decision to handover the investigations to the CID was taken after considering all deaths of tuskers and elephants because he wanted to expedite the investigations and identify if there is any organization or network behind those elephants deaths and tuskers racket and take them into the custody soon. (Darshana Sanjeewa, Muditha Dayananda and Sunil Kahagalla)