---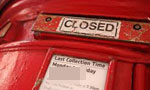 The Joint Postal Trade Union today warned that the trade union action launched by a group of Postal Department workers on Sunday would continue until the authorities fulfilled the promises made to them.
Joint Postal Trade Union Front Convener Chinthaka Bandara said the union had submitted 14 demands which included the demand for the implementation of a proper procedure for recruitment and the payment of a better rate for overtime.

He said the strike would continue if Post and Postal Services Minister Abdul Haleem was unable to come up with a reasonable solution to their concerns.
Meanwhile, Postmaster General Rohana Abeyratne said this matter would be resolved after discussions with the minister.
"Currently 22,731 registered letters are stockpiled at the postal exchange. If trade union action continues, the number of undelivered letters will increase," he said. (Chatruanga Pradeep)