---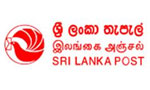 The Postal Department today announced the cancellation of leave of all employees attached to postal service as of midnight (December 19).
Postmaster General D.L P. Rohana Abhayaratne said that following the announcement of a two-day island-wide token strike by the Joint Postal Trade Unions Front (JPTUF), the department had decided to cancel all leave of the employees to prevent interruption of the service.
The JPTUF today announced that officers attached to the postal service had decided to launch an island wide two-day token strike starting from today (midnight 19th) over several demands, including an immediate solution to the recruitments and promotions issues at the Postal Department.