---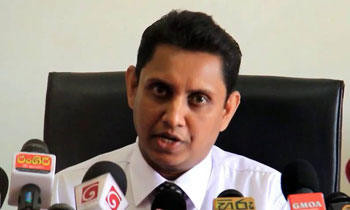 Refuting the statement issued by the Health Ministry claiming that the Government Medical Officers' Association (GMOA) has failed to submit any proposals to the Post Internship appointment list 2017, the GMOA yesterday said that they had officially submitted their proposals containing alternatives to the related authorities last Monday (2).
GMOA Secretary Dr. Haritha Aluthge told a news conference that they had written evidence to prove their claim about the submission of the said proposals even though the statement issued by a Health Ministry official, Saman Kumara, quoting Health Ministry Secretary Janaka Sugathadasa, had claimed that they had not done so by Thursday (5).
"The list was officially signed and accepted by the related authorities on October 2, following which the Transfer Board has commenced the amendments to the issued list. The GMOA representative was also represented," he added.
He said that despite having submitted the proposals, these authorities had said that the they would implement the earlier list which contained several mistakes, since the two-day deadline given to the GMOA to submit their alternate proposals had lapsed by Thursday.
He also said Mr. Sugathadasa was also approved of this process and added that several officials including Medical Services Director Dr. Priyantha Athapaththu and a member of the Health Minister's personal staff, Dr. Upul Gunasekara, were attempting to sabotage this process
"We have yesterday referred a letter to Mr. Sugathadasa, informing him about this issue. An investigation should be carried out by the ministry with regard to this issue. If the earlier list gets implemented without reaching any agreement we will be forced to resort to a country-wide trade union action next week," he added.
He said they had earlier made a complaint to the Public Service Commission (PSC) against the issued list seeking an inquiry. He said that they would hold further discussions with the PSC in this regard on Monday (9). (Kalathma Jayawardhane)