---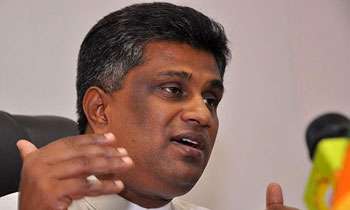 Non-cabinet Minister Ajith P. Perera yesterday said he would speak to Home Affairs, Local Government and Provincial Councils Minister Vajira Abeywardana to see if there is the possibility of presenting a motion in Parliament to hold PC polls under the old system as soon as possible.
The Non-cabinet Minister, who represented the UNF at party leaders meetings with the Elections Commission, told the Daily Mirror that he was aware that the Cabinet of the 51 day Rajapaksa government –though unconstitutional – agreed in mid-November to prepare a legal draft to hold PC polls under the Proportional Representation Electoral system.
"I believe the UNF Cabinet also can follow a similar approach to this issue and move a motion in Parliament and pass it with the support of all party leaders paving the way for early PC polls," Minister Perera said.
However, Minister Perera said the UNF's position was that elections to all 9 Provincial Councils must be held on a single day and not in a staggered basis. General Secretary of the SLFP, former Minister Dayasiri Jayasekara said the SLFP would support it if the government brings a motion in Parliament to hold PC polls under the old system as the issue of delimitation and amendments to the new electoral system had delayed the holding of PC polls indefinitely.
The SLFP was contemplating to file a rights petition in the Supreme Court through a former Chief Minister, challenging the delay to hold polls, he added. Senior politician of the Joint Opposition and former Minister, Dinesh Gunawardana, who chaired the Parliamentary Select Committee on electoral reforms, told the Daily Mirror that the previous government, Elections Commission and even the party leaders to some extent did not have a genuine desire to hold PC polls on time.
"The five member committee appointed to review the delimitation report led by Prime Minister Ranil Wickremesinghe has not submitted its report up to now making it impossible to hold PC polls under the new system. Therefore, we have no option other than holding the PC polls under the old system and we are supporting if a motion is brought before Parliament to expedite the process," Mr. Gunawardana noted.
Propaganda Secretary of the JVP, Parliamentarian Vijitha Herath said the JVP would support any move to expedite the process to hold PC polls without any further delay after reviewing the draft of the motion.
Meanwhile, Elections Commission Chairman, Mahinda Deshapriya said if the party leaders have a genuine desire to hold PC polls without delay, they can do it. Term of Office of six PCs, namely Northern, Central, North-central, North-Western, Sabaragamuwa and Eastern expired last year and the term of Office of Southern and Western ProvincIal Councils are scheduled to expire in April and Uva in September. (Sandun A Jayasekera)