---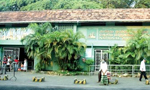 The Born Free foundation, an international wildlife charity based in UK recently released a statement regarding the Dehiwela Zoo, with regard to the poor conditions at the Zoo and possible welfare concerns for the animals.

The Foundation that runs a Zoo Check programme in its release said that it was willing to work with the Government of Sri Lanka to implement a few changes within the zoo. "Recently-released observations, photographs and video footage from Dehiwala Zoo, Colombo, Sri Lanka, have given rise to international concern, and appear to confirm recent observations by the Born Free Foundation, particularly with reference to the poor conditions at the Zoo and possible welfare concerns for the animals," the foundation said.
In the light of these observations, the foundation is disappointed in the response from the World Association of Zoos and Aquaria (WAZA), of which Dehiwala Zoo is a member, which claims that "positive changes have taken place and the zoo is evolving and improving", that new plans will be available in the near future, and that WAZA intends to monitor the situation.
The Born Free Foundation is convinced that what is urgently required at the Zoo, in addition to short-term intervention to secure the welfare of the animals, is a strategic plan towards closure, involving consolidating the Zoo's animal collection and re-homing many or all of the animals to alternative, good-quality facilities.
The foundation has further stated that they are aware of the allegations have been made regarding the trade in wild animals from the Zoo, and we call on the Ministry overseeing the Dehiwala Zoo to provide prompt and clear explanation and evidence to clarify this point.
Animal activists have been for years critical about the conditions of the welfare of the animals in the Dehiwela Zoo. More recently there was renewed interest by animal lovers, some of them even calling for the closure of the Zoo and an end to the animal performances there.
The Born Free Foundation takes action worldwide to save lives, stop suffering and protect species in the wild. Its major international projects are devoted to animal welfare, conservation and education, and protect lions, elephants, gorillas, chimpanzees, tigers, polar bears, wolves, dolphins, turtles, sharks and many other animals.(Kamanthi Wickramasinghe)