---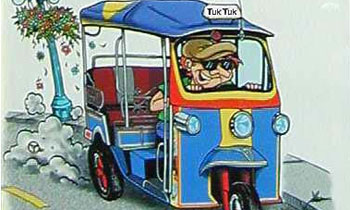 Narahenpita Police have unearthed a con of two siblings who drive trishaws that threaten and demand money from female motorists as compensation, saying that the latter had accidentally hit and damaged their taxis.
A con of ripping off money from especially female motorists of well-to-do background was reported recently in Cinnamon Gardens, where two siblings who were highly addicted to drugs had demanded money for their damages.
One of the victims, a woman who had faced the con told the Daily Mirror that her vehicle was being motioned to stop by a trishaw that came from behind (bearing the registration number GR-2656) by flashing its headlights near the Kassapa Road in Jawatte few weeks back.
The driver in the trishaw had then approached her and asked for money as compensation saying that her car had hit his vehicle and broke the side mirror.
However, the woman who was felt suspicious about this claim had denied the trishaw driver's claim of her car hitting his side mirror. She had however asked the trishaw driver to visit her house to further discuss the matter but the suspicious character had then fled the scene.
"It was happened about three weeks ago. After I pulled over the vehicle following the light signal the pursuing trishaw driver had approached me and knocked on my shutter. Then he claimed that my vehicle had bumped into his vehicle and broke his mirror.
But I was pretty sure that I did not do so and asked him to follow my car to my residence which was in the close proximity. In the meantime I telephoned and explained my family driver of what had happened. Seeing my driver coming out of my residence the trishaw driver had quickly left place," she said.
Making her doubts a reality, the same character had once again bumped into her committing the same racket near the Independence Square on Thursday (27), not even recognizing that it was she who he once tried to deceive.
The woman who was smart enough to realize that it was a con targeting women motorists had taken photographs of the trishaw and of the driver's license had later lodged a complaint with the Narahenpita Police.
"He was young, looked extremely drugged out and drove recklessly. I instantly recognized that it was the same person who attempted to deceive me once before and was fortunate enough to realize that it was a con. So I complained to the police to prevent such losers prey on innocent women" she further said.
When contacted, a Narahenpita Police officer told the Daily Mirror that the police is already aware of the con and have identified the suspects behind this operation.
He said the suspect had recently been released on bail for committing the same kind of crime and his brother is still behind bars for the same offence. They both had four similar complaints against them.
"They are two brothers from Piliyandala and Pepiliyana areas that had carried out this racket in Colombo. Four incidents had been reported against them but there could be more cases as these people had especially targeted women. Both the suspects are addicted to excessive use of Heroin and Ganja," the officer said.
He further said, in the latest incident the suspect has come from a different trishaw and the police had already informed the Department of Motor Traffic of its registration number to trace the vehicle and the suspect. (Thilanka Kanakarathna)