---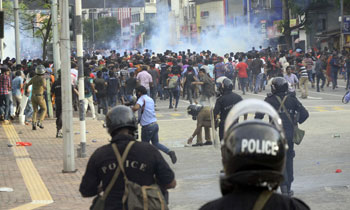 Anti-SAITM protesters today condemned the police attack and said they would complain to the Sri Lanka Human Rights Commission (SLHRC) about the alleged violation of International Mob Control Laws.
Displaying photographs of some police officers armed with iron bars standing on the sidelines of the protest, Inter University Student Federation (IUSF) Convener Lahiru Weerasekara said the police were targeting the heads of the protesters.
He asked Police Chief Pujith Jayasundara as to who had given the police the authority to attack the protesters with iron bars instead of using wooden batons.
"The attack was meant to hurt the students and not to disperse them. The STF chased the protesters along Marine Drive towards the railway tracks," Mr. Weerasekera said.
He said the police had recorded statements from the injured students who were warded at the National Hospital without considering their health conditions.
Mr. Weerasekara accused the unity government of following in the footsteps of the previous regime and attempting to suppress the rights of students.
Meanwhile, SAITM Virodhi Jana Pawura member Mahinda Jayasinghe said the attack was one of the most shameful seen in recent history and would seek legal assistance with regard to the violent behaviour of the police.
Responding to the allegations, Police Spokesman Ruwan Gunasekara told Daily Mirror that anyone could complain to the SLHRC or any other relevant institutions if they suspected the police had violated the country's laws when dispersing the protesters.
"Police have to follow the Criminal Procedure Code and duty bound to maintain law and order. Protesters violated the court order and the police had to disperse them. Before talking of international mob control laws, protesters should be aware of the country's general law," he said.
SP Gunasekera said the people's right to assemble peacefully and the freedom of speech have been guaranteed by the Constitution and the same Constitution says that any act which causes a public nuisance is an offence.
It was also learnt that Duminda Nagamuwa who was injured during the protest was still at the National Hospital.
It had also been revealed that the Inter Union Student Federation (IUSF) Convener Lahiru Weerasekara attended the protest while he is on bail under strict conditions in a case where he was alleged to have broken into the Health Ministry and damaged public property and that his bail would be canceled if found guilty of having caused public inconvenience. (Thilanka Kanakarathna)
Video by Buddhi