---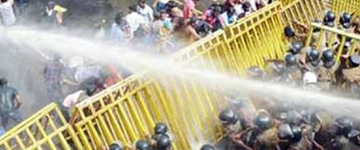 The police used tear gas and water cannons to disperse a group of monks, who are members of the Ravana Balaya, who attempted to forcefully enter the Presidential Secretariat today.
The monks were present at a protest march organized by the disabled soldiers demanding for a pension.
Several disabled soldiers in the vicinity were also affected by the tear gas.
The Lotus Road from Galle Face in Colombo is closed temporarily because of a protest march.
Video by Buddhi, Chamilka, Indika Sri Aravinda
Video by Chamilka and Danushka