---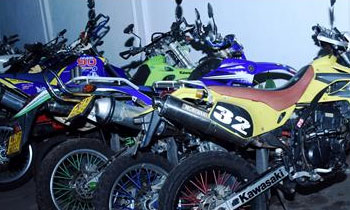 A gang of young riders who rode high powered racing motorcycles with engines beyond the legal capacity with altered chassis numbers on the main roads in Colombo 7 early on Friday night was seized by the Cinnamon Gardens Police.
A team of officials from the police traffic control branch armed with information based on several public complaints launched a special operation past midnight to nab the gang of motorcyclists on Reid Avenue.
The police team led by Cinnamon Gardens Police Traffic Branch Sub Inspector Suraj Abeysekara said, about ten motorcyclists were taken into custody for riding unlawful motorcycles that violated the rules of Department of Motor Traffic pertaining to bikes in Sri Lanka.
Most of the engine and chassis numbers of the seized motorcycles had been tampered with as they were illegally assembled in the country against the DMT rules.
Among the apprehended motorcycles were powerful trail bikes such Kawasaki, Hornet, Yamaha that exceeded the engine capacities beyond 250cc up to 400cc and 600cc.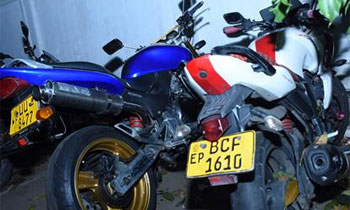 "The bikes had been modified with various body kits and silencer beat boxes that created an excessive high pitched noises causing great disturbance to the public, especially riding in groups in the late hours," the SI said.
The apprehended riders had been released on police bail and were asked to return with the registration books of their motorcycles.
The DMT officials had inspected the bikes and a report was to be handed over to the police which will be sent to the Government Analyst for further clarification of their unlawful engine accessories.
ASP Colombo City Traffic Central Lucien Suriyabandara told the Daily Mirror that Colombo police stations had been given explicit instructions to track down these unlawful motorcyclists who ride falsely registered bikes in a reckless manner and causing great disturbance to the public at night.
"These gangs traverse to and fro on the straight stretches of city roads like Reid Avenue and Green Path, where illegal night racing was an infestation several years back," he said.
OIC Cinnamon Gardens Traffic Branch IP Indika Kumara and SI Suraj Abeysekara are conducting further inquiries on the instructions of ASP Lucien Suriyabandara.(Kurulu Koojana Kariyakarawana, Pics by Kushan Pathiraja)