---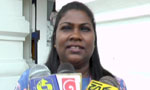 Commencing an internal inquiry into the incident where Police Special Task Force (STF) Commandant has made intimidating remarks towards certain media personnel, the Police Headquarters today recorded a statement from Lankadeepa Journalist Indika Ramanayake.
Acting Director of Police Media Division SSP Priyantha Jayakody said Journalist Indika Ramanayake had been summoned to the Police Headquarters to record a statement this morning regarding the incident.
He said IGP Pujith Jayasundara had appointed Senior DIG in charge of Administration Gamini Navaratne to conduct an internal inquiry into the incident where the STF Commandant DIG Ranjith Perera has made intimidating remarks on journalists at recent press briefing held at the STF Headquarters.
Asked whether any statement had already been recorded from DIG Ranjith Perera, the Acting Director (Media) said a statement would subsequently be recorded from him too.
SSP Jayakody said, apart from the internal inquiry being held under the supervision of the Police Chief, the National Police Commission is too conducting a separate probe into the matter.
Meanwhile, Lankadeepa journalist Indika Ramanayake told the Daily Mirror that a one-hour statement was recorded from her yesterday. Snr. DIG Navaratne had asked about a comprehensive description on what had happened at the day of the STF press briefing.
She said the STF Commandant had made an intimidating statement on journalists specifically referring to two newspapers, Lankadeepa and Lakbima claiming that they had been constantly slinging mud at the STF during the past two years. (Kurulu Koojana Kariyakarawana)
Video by Indika Sri Aravinda