---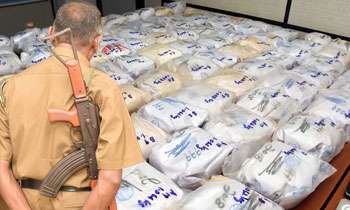 Law enforcement officers are in the search of a Turkmenistan couple suspected to be the mastermind of the heroin distribution racket that operated from a luxury apartment in Kollupitiya.
Officers of the Police Narcotic Bureau and Special Task Force on Monday arrested five suspects including two US nationals and an Afghan national for possessing 95.8 kg of heroin worth Rs. 1140 million on Tuesday.
Sources said investigations revealed that a Turkmenistan couple had stayed at the luxury apartment at the housing complex in Kollupitiya. They said the arrested foreign suspects had been allegedly operated by the couple.
Police said several teams are investigating to arrest the suspect couple.
They said the 45-year old Afghan national arrested with the stock of heroin had been in Sri Lanka since 2016.
The suspects including two Sri Lankans were detained till January 29 for further questioning after producing them in the Fort Magistrate's Court.(Darshana Sanjeewa)