---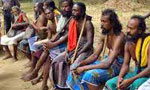 Ratugala Vedda Chief Suda Vannilyala Ettho, his wife, a child and a police constable were injured in a clash between a group of the Vedda community attending a function at the Vedda Chief's house and the police on Wednesday night.
The Vedda Chief, his wife and the child were admitted to the Bibile Base Hospital and the police officer was admitted to the Inginiyagala hospital.
Police said a group of individuals of the Vedda community chased after them and assaulted them when they carried out a raid on a house in the village on information that a gambling den was being conducted there.
However the Vedda Chief said four police officers from the Ratmalgaha Police Post stormed his house when about 40 people were attending a birthday party of a child at his house and assaulted them after disconnecting the power supply.
His wife D.M.B.Wimalawathie said the house was in the dark after disconnecting the power supply and that one of the police officers attempted to take her by force to the jungle while another assaulted the men.
Vedda Chief's daughter D.M.B Sudarma said they were celebrating the birthday of her child when the police officers entered the house disrupted the function and assaulted those present. A police team under OIC Inginiyagala police T.M.B. Magedaragama is conducting further investigations. (Prasanna Padmasiri)