---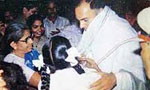 A representation to central and state governments to transfer the Sri Lankan national Rajiv Gandhi assassination case convict Santhan, to a prison in Sri Lanka, has been prepared for his approval.
The representation has been sent through jail authorities to Santhan by his counsel for consent.
One among the convicts in the case, T. Suthendraraja alias Santhan, a Sri Lankan citizen, is lodged in the central jail in Tamil Nadu.
"Advocate for Santhan has given us a representation requesting us to forward it to him so that he could sign it.
We have forwarded it to the prisoner," a jail official said requesting anonymity.
"Only if the prisoner (Santhan) signs the petition, appropriate action will be considered in accordance with law," the official told PTI.
The petition urges state and central authorities to shift Santhan to a prison in Sri Lanka. The request is based on bilateral prisoner exchange pacts between New Delhi and Colombo.
Meanwhile, according to official sources, it needed to be seen by top authorities if such a request fits within the scope of bilateral agreements between the two countries as Santhan is a life convict.
When contacted, Sri Lanka Deputy High Commission declined to comment on it.
On February 18, 2014, the Supreme Court commuted Santhan's death sentence alongside that of Murugan and Perarivalan, who were also convicted in the case.
A day after the ruling, Tamil Nadu government had proposed to remit the sentences of life imprisonment on seven prisoners. It included the three whose sentences were commuted by the apex court.
However, the Centre approached the top court against the state government's move and Supreme Court posted the matter to a five-judge bench.
In March this year, Tamil Nadu government for the second time sent its proposal to the Centre to release the seven convicts that also included Nalini, Robert Payas, Ravichandran and Jayakumar, which was turned down.