---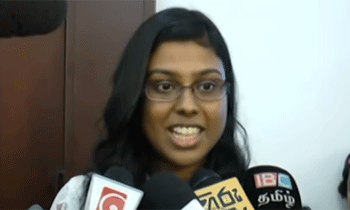 Former Navy Spokesperson Commander D.K.P Dassanayake's daughter told the media yesterday that her request to meet and lodge a complaint about her father's detention by the Sri Lankan law enforcement authority, to the visiting three-member UN Working Group on Arbitrary Detention, had been turned down, claiming it was not a case about the 'LTTE'.

She said she tried to explain the matter to the visiting UN member at the end of the media conference by the visiting UN delegation in Colombo.
"I was told that since the matter was not connected to an LTTE case, they can't meet her," she told the media after her failed attempt to meet them soon after the press conference. She said she came to learn that the delegation members would not come out until she left the place.
She also said that the delegation visited LTTE detainees during last eleven days, but never visited her father at the Welikada Prison Hospital.
"Authorities are detaining my father for almost five months without any charges. I just want to complain about this to the UN, but they did not even let me to meet them," she said.
The three-member UN Working Group on Arbitrary Detention which was in Sri Lanka from December 4, yesterday at the media conference urged the government to introduce urgent reforms to the 'outdated' legal framework to end arbitrary detention in the country.
The delegation comprised Working Group Members José Antonio Guevara Bermúdez, Leigh Toomey and Elina Steinerte.