---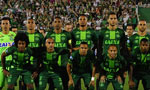 Brazilian soccer team Chapecoense were on board a plane carrying 81 people that crashed in Colombia, police said today.
Chapecoense, from Brazil's top league, had been flying in to face Atletico Nacional of Medellin in the first leg of today's Sudamericana final, South America's equivalent of the Europa League.
The club said in a statement that it would not be making any official comments until it had more information from Colombian authorities about Monday night's crash.
Brazilian media reported that three players were among the survivors.
Flight tracking service Flightradar24 said on Twitter the last tracking signal from flight 2933 had been received when it was at 15,500 feet, about 30 km from its destination, which sits at an altitude of 7,000 feet. (Reuters)